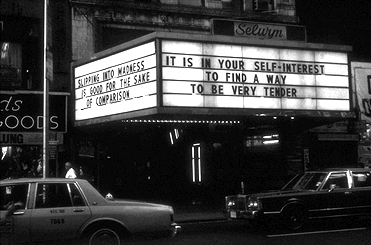 jenny holzer
the work of jenny holzer has been shown worldwide in prominent institutions such as the guggenheim museum (new york), the american pavilion at the venice biennale (venice, italy), the institute of contemporary art london (london, england) or the centre pompidou (paris, france).
however, the main focus of jenny holzer has been on the investigation of means to disseminate her ideas within public space. since the late seventies, she has been working in the street and in public buildings, using media that would enable her work to blend in the landscape. from lcd displays (e.g., in times square, new york) to posters and stickers (applied to such urban elements as telephone booths or parking meters), the texts function as comments on that environment they fit into, stimulating awareness of our social conditioning as conveyed by the very landscape in which we may be confronted by them.
is ms. holzer's first project on the world wide web, and is developed in the same spirit than her previous experiments in the public sphere. addressing the web as a site, jenny holzer presents five series of works (truisms, living, survival, inflammatory essays, laments). äda 'web is pleased to have offered ms. holzer the opportunity to reflect on this new medium.
context