Neon People Power

A document of neon life. On the hour for 72 hours during the installation / performance, Chen noted the amount of power his neon beings had consumed.
Poor neon creatures, none of their consumables are stir-fried.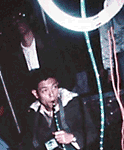 Their lack of interest in cuisine did not endear them to Guangzhou gourmets, i.e., everybody in this town.




5 Hours (unfinished)


Chen may have to rename this performance "Two and a Half Hours" because the cops closed it down prematurely. They claimed he was a traffic nuisance, and rejected his plea that his performance was an art work. Chen wryly notes that had the authorities accepted his work as art, they would have told him to pack up because art should only happen in art galleries.


Changing TV Channels and the Decision to Change the Bride

Not a complicated work, Chen explains. People are married to TV, so let them look at a TV dressed up like a bride.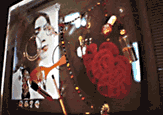 Detail of TV, what's on now
Chen is doing his bit to change TV viewing habits.