APPREHENDED: JULIA SCHER
OCCUPATION: ARTIST

interview by Barbara Osborn
Los Angeles, the 21st Century city. City of contradictions. Urban intensity. Suburban pleasures. Race riots and Rolls-Royces. Smog rests heavily over people's outdoor recreation. Many Angelenos live in single family dwellings with nice suburban lawns. They also live with a sense of imminent urban danger. In front of most homes, planted like mutant flowers, are security signs warning would-be trespassers of armed patrols on the watch.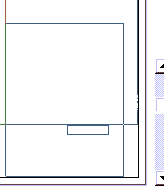 Surveillance artist Julia Scher grew up here. Thirty years ago, Los Angeles wasn't quite like it is today, but it was already a city of fear and fortification. then as now, no one but the under age, the perverse, the poor, and the undocumented leave home without the 2,000 pounds of industrial armor commonly known as the automobile. Drivers whiz through neighborhoods labeled "dangerous" their feet never touching the ground, concerned only that their cars not fail them until they reach the relative safety of their own secured neighborhoods.
After finishing high school, Scher worked as a bookie's assistant, a nude model for painter William Brice, a motion picture sound effects editor, and a dental hygienist. She began painting landscapes and eventually introduced video into the paintings, the camera gazing out from the canvas landscape. Taking the concept one step further, she stopped painting and turned the camera on the landscape itself.
Today Scher puts buildings and neighborhoods under the steady gaze of video cameras; light, heat, and motion detectors, and other contemporary surveillance gear. Enter one of her installations and your image is captured and instantly transmitted to other parts of the exhibition space. You've become one more speck of digital information in a process of indiscriminate, on-going data collection.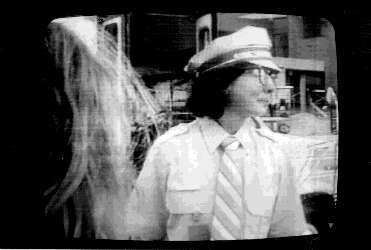 Scher's work exposes the mechanics and the threat of the technology. Black cable springs chaotically from cameras, switchers, and video recorders. Monitors, normally squirreled away in corporate office buildings, banks, and police stations, are placed so we can see them. They offer us a glimpse of the furtive footage recorded by surveillance cameras hung over doorways, cash registers and vaults. Arbitrary and inaccurate information is superimposed on "suspects" caught by cameras, suggesting the potential danger to civil liberties of indiscriminate data collection. A figure enters the fuzzy black and white frame of the surveillance camera. On the screen appears identifying information generated by some omniscient Big Brother.

She is looking the wrong way
He is a humble member of the community and is being traced in a thousand ways
He/she occupied the Berlin Wall and now sleeps in a Berlin shopping mall. Beyond the immediate questions of social awareness, Scher's work raises issues about how human beings respond to power and why we thrill to control and capitulate. We submit willingly to our own strip search, pleased with ourselves when we pass. It affirms us. Drug Free. Good credit. We are who we say we are. And on the flip side of this S&M dime, we gladly take the helm, exchange places, wield the titillating power, fascinated, watching people's privates yield to us.
Julia Scher and Barbara Osborn took a car tour of Los Angeles in August 1992. Excerpts of their conversation have been intercut with descriptions of Scher's recent work.
Before going out in the L.A. sun, Julia covers her skin with sunscreen to block out the southern California ultraviolets. Draping herself in a black cowl that covers her face and arms, she looks like a woman under the veil of purdah. We begin by looking for Webster's Coffee Shop. It's the place where Julia's father used to take the family so they could say, "We ate in Beverly Hills." We're driving the outskirts of the city trying to establish where Beverly Hills ends and Los Angeles begins. L.A. has the unnatural borders of a city eroded by wealthy seceding municipalities. We pull over at La Cienega and Gregory. A crossing guard, dressed in a fluorescent pinney and a blue baseball cap, offers to dig out a map. He rests his faded hardback copy of Our Working World and his Russian-English dictionary on the seat of his folding chair.


APPREHENDED:  MICHAEL SLADKOV.  
B.  UNKNOWN.  
OCCUPATION: CROSSING GUARD.   
EMPLOYER:  SECURITY OFFICERS SERVICE.  
INS STATUS:  ALIEN.  RUSSIAN.  POLITICAL REFUGEE.  
RESIDES: LOS ANGELES.  JEWISH.  
IDENTIFYING MARKS:  A Y-SHAPED SCAR ON HIS RIGHT PALM.  
PROPERTY:  RED OLDSMOBILE.

In Minneapolis, Julia organized a security bus tour called "Security Sites Visit." The fifty visitors were led past the local corporate headquarters of Unisys, Cargill, Honeywell, and Rockwell International. Scher briefed the group on each company's security system based on information and planning documents made available by each company. The group also visited the Honeywell house, a prototype of residential security. The full-scale model was built within Honeywell's research facility and is appointed with furniture, drapes, and wall-to-wall carpet. Visitors were shown the house highlights: keypad controlled windows, elevator, and garage; infrared motion, volume, and shock detectors; and closed circuit television of the grounds relayed to a small square in the corner of the living room TV screen.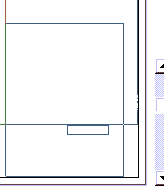 We continue our drive through Beverly hills, Julia says, "This is where my dad used to take us "fake house hunting". We didn't have any money, of course, but whenever there'd be an open house, he'd take us and pretend that we were shopping for houses. We'd park blocks away so the people couldn't see that we weren't driving up in a fancy car."
"Safe & Secure" was an installation constructed at two Vienna U-Bahn stations. At the first site, cameras focused on shoppers around the opera. Monitors, built into a telephone booth-type structure outside the station, presented images from the surveillance cameras placed in the area as well as pre-recorded material from the second site. At that location, a neighborhood frequented by hustlers and drug dealers, low-light cameras picked up street action. Monitors were placed just above eye level, mounted unobtrusively into a structure that complemented the design of the U-Bahn entrance. A sign on the monitor warns "Achtung! Wir bild wird offentlich ausgestrahlt und jegliche bewegung kann von jedem verfolg werden." (Achtung! Your image is being transported to Opera where individuals are tracking your every move.) Scher notes that the presence of the cameras had no apparent affect on criminal activity in the area.
We drive through the arid, irrigated desert of the Hollywood Hills. Los Angeles is a desert. The only thing that separates it from the parched land around it is irrigation. A triumph over nature. As we drive toward Van Nuys via Coldwater Canyon, Julia tells me, "In the late 60's, The TV Times (a Los Angeles Times supplement) reported that Leonard Nimoy lived in Coldwater Canyon and I thought I'd do a massive investigation, but I never did."


APPREHENDED: DAVE GORTEN. 
B. 1953. 
OCCUPATION: UNEMPLOYED. 
LIVES W/BROTHER IN SAN FERNANDO VALLEY. PERSONALITY 
DISORDER. 
TEST SITE: USC MEDICAL CENTER.  NO TRW CREDIT.

Dave Gorten ("His parents changed it from Goldstein or something like that, "Julia, also Jewish, says with contempt) introduced Julia to S&M.
Julia proposed an installation for the Ludwig Museum in Köln. She suggested that Herr Ludwig dash naked through the halls of the Museum jogging past his renowned collection of pop art which includes exemplary work by Andy Warhol, Claes Oldenburg, Tom Wesselman, and George Segal. Ludwig's sprint was to be recorded by surveillance cameras, edited in an expressionistic style, and played back for museum visitors, as if live. The proposal was rejected.
We pull up in front of Julia's house at 5857 Nagle in Van Nuys and exchange stories about getting caught having sex. Julia's story ends with her father grounding her.
At Zwirner's Dungeon at the Galerie Rudolf Zwirner in Köln, 20 monitors are suspended above eye level. Pre-recorded tapes in the gallery present images of gallery owner Rudolf Zwirner in his basement pulling paintings from their metal racks. Other cameras "catch" him conducting the gallery's administrative business. The family's private residence above the exhibition space are also under surveillance. In the center of the gallery is a table with a tangled mass of black cable extending out of several switchers. Cable also runs to each of the monitors and to the 20 cameras. A computer sits on the table offering promotional and informational texts: "Super Dungeon Cameras 5-10 are now being screened on Monitors 41-50. Come see Zwirner's dungeon castle! Now open".
All my efforts to take pictures during our trip have been blocked by walls, fences, and gates. You don't realize how many barriers there are in Los Angeles until you start taking pictures. An alley runs behind the houses in Julia's old neighborhood. Seven-foot cinder-block walls separate the houses from the alley. Julia says she used to be able to hop these walls.
Later at Bob's Big Boy, she explains that she and her friends used to cruise down the center lane of Ventural Boulevard driving real slow so they could talk to people on either side of the car. The police were around, she says, but until the gangs got involved, you could get away with a lot.

We head off for the Police Academy near Elysian Park. Technically, without police business, we're trespassing, but as in the days of Julia's teenage cruising the police benignly look the other way. We watch the officers take shooting practice, visit the Academy Chapel, and have a cup of the world's worst coffee.
We were both police once. "Safeties" in our elementary school, a system of self- policing students whereby kids assisted in the control of the school. "I kept kids from running in the halls and guarded the portals", Julia says. The following year, she got a promotion, became an "Echo" turning in kids who ditched school. She'd announce to potential truants, "You can't go past here", hoping they'd recognize her authority. Ultimately she lost her taste for confrontation and sought solitary assignments.
"Danger Dirty Data Enter Me Now", a piece Julia presented at the Barbara Toll Gallery in New York included a catalog entry of security gear. It included:
Master and slave voice readers
Conspiratorial electricians and room debuggers
Counterspy transmission interrupters
Fake family services providers
Body bag, morgue and hospital information gatekeeps
Cleavage and buttocks analysis tongs
Daytime seduction and finger analysis
Machines of dominance and delight
Tax and welfare records
Childrens' escort services
Our last stop is The Secret Trail, a narrow path lined by ivy-covered walls, a cut- through between houses. Graffiti peeks beneath the greenery. Beyond the wall are grapefruit, orange, and fig trees. A plump, 10-year old boy straddling a racing bike begins to talk to us.


APPREHENDED: DANNY BIDDLE, 10. 
EYES: BROWN. 4' 11''. 106 POUNDS. 
FATHER, FIREFIGHTER. 
ATTENDS GRANT ELEMENTARY/VAN NUYS, CA. 
TALKED BACK TO POLICE OFFICER, AUGUST 30, 1991.

He offers to point out the ants, the dead bird, and the condom wrapper on the trail. Julia asks if he's learning safe sex in school, and, like a boy who knows his place, aware of what he hasn't been allowed to know, he answers, "I'm not in junior high yet."