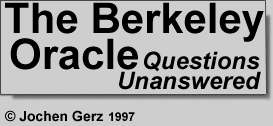 The exhibitions will consist of questions selected from those submitted to the three participating institutions' web sites. Inside the exhibition areas, the frames "squat" museum spaces and exhibitions. They are an ongoing commentary to the visual displays surrounding them.

MATRIX is supported in part by Mrs. Paul L. Wattis, Ann M. Hatch, the California Arts Council, the UAM Council Matrix Endowment, and two anonymous donors. This exhibition has received additional support from the Goethe Institut, San Francisco. Other Credits.
In a homage to times of questioning and change, you are invited to contribute to THE BERKELEY ORACLE your unforgotten, new or never-asked questions concerning any part of your life, experience, or history. You will be mentioned as a contributing author to this interactive artwork on the internet, which will be exhibited in the Berkeley Art Museum (January 28-May 31, 1998) and published in art magazines.

The Oracle of Delphi was a temple where people went from all over ancient Greece to ask questions. In other descriptions, it is said that the oracle's answers were questions ...