BACKGROUND

"The Artist and the Internet"

äda'web is a group that works with artists to create art works for the Internet and presents these works on its World Wide Web site. As such, äda'web functions as a research and development resource, enabling artists to explore the Internet as a new medium and participate in its artistic definition. In presenting these projects, most of which are works-in-progress, äda'web offers Web site visitors exposure to the evolving ideas of the artists and the creative process.

please visit Securityland now.






   click here for
A Presentation
	with
	Julia Scher and Benjamin Weil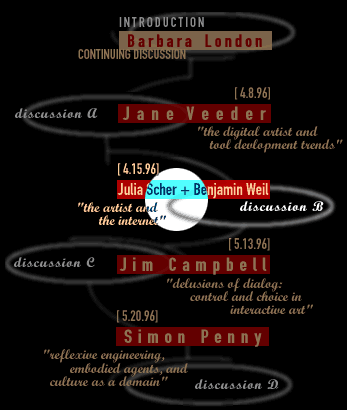 Scher and Weil will delve into the intricacies of creating work for the Web. They will also elaborate the manner in which art is presented on äda'web, and the way they collaborate with cultural institutions. In particular, they will discuss the presentation on their World Wide Web site of The Museum of Modern Art's TECHNOLOGY IN THE 1990S series.
Julia Scher has been investigating surveillance and its effects on the construction of individual and collective identity. She has recently been developing securityland, a medium-specific work in progress for the world wide web.
Benjamin Weil is the co-founder of äda 'web, a web platform dedicated to exploring the creative possibilities of the internet, as well as enhancing the exchange between contemporary artists and their public by drawing viewers into the creative process, thus transforming conventional divisions between audience and creator.