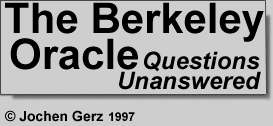 The Berkeley Oracle is part of the MATRIX series, an ongoing program of exhibitions of contemporary art at the Berkeley Art Museum. This exhibition will take place outside the usual gallery context insofar as it will exist solely on the world wide web and, in the form of printed text pieces, installed guerilla-style in the collection galleries and other public areas (washrooms, library, cafe, etc.) of the Berkeley Art Museum and the Museum für Neue Kunst, Karlsruhe ...
Thirty years ago, the Berkeley campus became a worldwide symbol for questions igniting fires of thought, passion, anger and innovation. Whatever your opinion or even knowledge today about the days of the flower children and the non-violent revolution, you may agree that the events linked to Berkeley as much as to Paris, Berlin or Milan, instead of being a part of a dead and venerable past, have since continued to fuel vital doubts and discussions ...

The Oracle of Delphi was a temple where people went from all over ancient Greece to ask questions. In other descriptions, it is said that the oracle's answers were questions ...