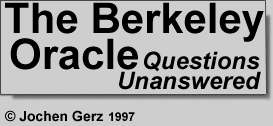 The internet component is a production of the Berkeley Art Museum and is also hosted on its web site (in English and Spanish), as well as on the sites of the Stadtlische Hochschule für Gestatlung Karlsruhe (HfG), Karlsruhe, Germany (in German). These sites will remain active through May 31, 1998, the date of the close of the exhibitions in Berkeley and Karlsruhe ...
To put it into one sentence: sometimes it is not so much the answer that makes the question but rather the lack of an answer. Asking questions seems to be part of our nature, whatever the answers, whatever the chances of finding or giving them ...

The Oracle of Delphi was a temple where people went from all over ancient Greece to ask questions. In other descriptions, it is said that the oracle's answers were questions ...